Maldives Villa Reed Diffuser
$21.90 $21.90
Maldives Villa Scent

Staying in a villa on wooden stilts floating over the Indian Ocean is the ultimate definition of relaxed island life. With the Maldives Villa scent, you can now experience the luxury of the Maldives island from your room. Feel the ocean breeze with top notes of floral & ocean blend and pair that with the citrus freshness of grapefruit. Base notes of wood extract and sandalwood grounds the scent of the cozy interiors of a natural wooden villa.
Reed diffusers are an easy and elegant way to fine-tune your home. Pristine's long-lasting scent helps to make your home feel clean and refreshed. Every box of Pristine Aroma Reed Diffusers includes 5x reeds and one bottle of pre-filled fragrance oil (50ml).
It can last up to 4-6 weeks. The shelf life is 12 months after opening the packaging.
Learn more about the inspiration behind Maldives Villa Scent here.
Instructions

Insert reeds into the bottle. The reeds will absorb the oil the diffuse the scent into the air. The diffuser will achieve the total result in 12 hours. Flip the reeds for more fragrance.
Do not burn.

Customer Reviews
06/01/2022
MrsDodge1

Malaysia
Lovely clean floral scent - Pristine
I disliked this scent initially because it was strong. Eventually it mellowed out and now I am ready to order an even bigger bottle. This scent flows everywhere so if you buy more than one, place them one separate floors. The one in our bathroom flows out into the rest of the floor. I recommend this product.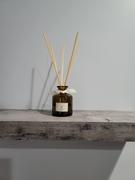 Love them
I usually don't write reviews but I loved their products. Maldive villa is my favorite! Give it a try, you will love thier products! 5 stars!!!!
06/01/2022
Brooke M.

Malaysia
It smells great, use with caution
I find the scent itself absolutely amazing. However on the first night I woke up with a killer headache, and the first full day we had it opened, my husband started to have one as well. We've tried it in different spots of the home, but it still seems to affect us negatively while the scent is in the air. I'm so disappointed because the strength and scent itself is amazing. We will still keep it probably on our porch! Just beware of your body's reactions to it. Great product aside from the side effects lol. Love the look and came in secure packaging.
05/11/2022
ray b.

United States
Nice scent
I recently tried Pristine Reed Diffuser on whim. I was pleasantly surprised by nice scent. It radiates, but is not overwhelming. I tried the Marriott Hotel, which I really enjoy, so look forward to trying other scents !
04/04/2022
Carolyn S.

United States
Absolutely a great buy!
Love love love!!!