English Country Inn Reed Diffuser
$21.90 $21.90
English Country Inn Scent

A trip down to the English countryside is always a must whenever visiting London. The English Country Inn scent was inspired by these spontaneous road trips & designed to induce a light-hearted carefree mood. The top notes of this scent have a subtle sweet hint of fruit and vanilla bean. Imagine waking up to a breakfast of British pancakes with strawberries and cream. Heart notes of cape jasmine and hoary stock were used to mimic the sweet floral freshness driving through the English countryside.
Reed diffusers are an easy and elegant way to fine-tune your home. Pristine's long-lasting scent helps to make your home feel clean and refreshed. Every box of Pristine Aroma Reed Diffusers includes 5x reeds and one bottle of pre-filled fragrance oil (50ml).
It can last up to 4-6 weeks. The shelf life is 12 months after opening the packaging.
Learn more about the inspiration behind English Country Inn Scent here.
Instructions
Insert reeds into the bottle. The reeds will absorb the oil the diffuse the scent into the air. The diffuser will achieve the total result in 12 hours. Flip the reeds for more fragrance.
Do not burn. 

Customer Reviews
06/01/2022
Jolene

Malaysia
Looks great, smells great
I bought this for my small half bath to help with the always gross smell that having 2 little boys causes in bathrooms. I love it and it smells amazing! I've had it for over 7 months and I'm only now noticing the scent is fading and isn't as pronounced. I'll buy this again for sure. I'm excited to try out some other scents!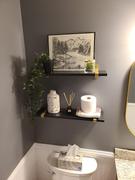 03/12/2022
PM

Singapore
Do yourself a favour
Good fresh smell is so underrated! Do yourself a favor, place this in a closet or your bedroom and you will find yourself being pleasantly surprised and refreshed to take on your day.
03/11/2022
kate

Singapore
I recommend this product
Smells just like a luxury hotel
I am so impressed with this. I was looking for a reed diffuser for the bathroom, something not cheap smelling. Last time I used one from Nest and I personally did not think it was worth the cost. I was a bit concerned choosing this because there was only one review, but I decided to give it a try and I'm so happy I did! I got the Ritz-Carlton and Shangri-la. Both smell just like a luxury hotel. I can't really describe the difference (they are a bit different) but they do both smell like a hotel lobby or restroom lol. The scent is not weak but it's not overpowering. I'm planning to try the Hilton and Marriot when I'm finished with these.